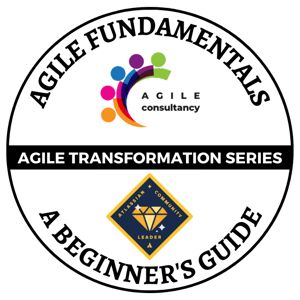 AGILE FUNDAMENTALS: A BEGINNER'S GUIDE
Mastering Agile Fundamentals: An A-Z Guide
Course Overview
This one-day high-level fundamental training is designed to provide a solid foundation and introduction to Agile methodology. This interactive session covers the basics of Agile, including its values, mindset, and iterative approach to project management. Participants will acquire fundamental knowledge on how to apply Agile principles in their work, foster collaboration, and deliver value to customers dynamically and adaptively.
Learning Outcomes
| | |
| --- | --- |
| 1 | Explain the key principles and values of Agile and its relevance to today's fast-paced business environment |
| 2 | Describe the essential components required to implement Agile methodology and facilitate an Agile Way of Working |
| 3 | Discuss how Agile practices are used to manage projects and operations effectively |
Target Audience:
Anyone seeking an introduction and awareness on Agility
Course Pre-requisite:
Open to individuals who may not have prior experience or involvement in Agile projects or any projects at all

Participants should be able to understand and communicate effectively in English to fully benefit from the training materials, discussions, and exercises.
Achieves Learning Outcome 1

Overview of the Agile software development methodology, including its history, principles, and benefits
Achieves Learning Outcome 1

Explore popular Agile frameworks, such as Scrum, Kanban, and Lean, and their application in software development
Achieves Learning Outcome 1

Cover the different roles in Agile development, including the product owner, scrum master, and development team, and their responsibilities
Achieves Learning Outcome 2

Delve into various Agile practices such as user stories, sprint planning, daily stand-ups, sprint reviews, and retrospectives
Achieves Learning Outcome 2

Explore the various artifacts in Agile development such as product backlog, sprint backlog, burn-down charts, and Kanban boards
Achieves Learning Outcome 2

Introduce Agile tools such as Jira, Trello, and Asana, and their use in Agile development
Achieves Learning Outcome 2

Discuss the importance of Agile culture, including collaboration, communication, transparency, and continuous improvement
Achieves Learning Outcome 3

Provide guidance on how to implement Agile in an organization, including overcoming common challenges and adopting an Agile mindset.
INDUSTRIES IMPACTED BY THIS COURSE
Software Development

Information Technology

Product Development

Manufacturing

Financial Services

Healthcare

Consulting

Retail

Government

Non-Profit Organisations

Marketing, Sales and Advertising

Education

Telecommunications

Construction
SERVICES OFFERED UNDER AGILE TRANSFORMATION SERIES